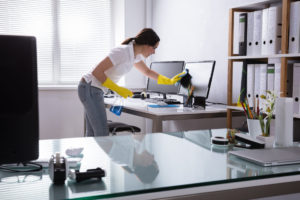 Cleanliness has always been important for business owners of all kinds. In the time of COVID-19, though, it matters more than ever to sanitize your business premises on a regular basis.
Wiping down desks and doorknobs with a paper towel and some generic all-purpose spray won't cut it anymore. If you need help keeping clean office premises, you need to work with a commercial cleaning service instead.
What Do Commercial Cleaning Services Do?
Commercial cleaners handle a wide range of tasks that help you to keep your office space clean, sanitized, and safe. The following are some of the most common steps these services take when cleaning business premises of all kinds:
Taking out trash
Vacuuming, sweeping, and cleaning floors
Sanitizing bathrooms
Sanitizing eating spaces
Wiping down and sanitizing other surfaces (desks, countertops, light switches, etc.)
Dusting, cleaning, and sanitizing office equipment
Window cleaning
Commercial cleaners do more than just tidy up. They go above and beyond to ensure that your office space is disinfected so you and your employees can be protected.
Benefits of Hiring Professional Cleaners for Your Office
Approximately 90 percent of commercial cleaning services take care of office buildings. If you're not working with a cleaning company to make sure your business is sanitized on a regular basis, there's a good chance things aren't getting as clean as they could be.
Need additional convincing to work with a professional cleaning service? Here are some specific benefits they have to offer:
Cleaner workspace and reduced risk of disease
Healthier and safer work environment
Increased employee productivity and fewer sick days
Professional office appearance (which means a better impression on customers and clients)
When you hire professional cleaners, you also get to enjoy the peace of mind of knowing you have a clean, disinfected office without having to worry about when you're going to find the time to clean it on top of everything else you have to do. You're free to focus on other aspects of running your business without stressing out about cleanliness.
Tips for Choosing the Right Cleaning Service
Okay, you're convinced that it's in your business's best interest to invest in commercial cleaning services. How do you choose the right company to work with your business, though?
There are over one million cleaning businesses in the U.S., and they're definitely not all created equal. Here are some questions you can ask that will help you to pick the right cleaning service for your business's needs:
What Cleaning Methods Do You Use?
The best commercial cleaning services will have a specific, evidence-based methodology that they use when cleaning all kinds of spaces. They should also be able to describe that methodology to you when you reach out to learn more about their business.
When talking to different cleaning services, be sure to ask about the company's protocol for making sure your office space is properly cleaned and disinfected. For example, do they allow chemicals the proper dwell time to ensure they're truly sanitizing surfaces?
Do You Offer Customizable Cleaning Plans?
Although the company should have a specific framework that they follow when cleaning your office, it's also ideal if they allow you to customize your cleaning plan to best suit your business's needs.
Some people might want every single surface and room of their office building cleaned. Others might only want specific rooms or specific tasks handled by professionals. Look for a cleaning service that listens to your needs and takes them into account before getting started.
How Do You Handle Customer Support?
Good customer service is essential when you're looking into hiring a commercial cleaning business. The process of hiring and scheduling a cleaning team should be as headache-free as possible. Be wary of businesses that take a long time to get back to you or that transfer you to several different people before you can get a simple question answered.
How Do You Validate Your Team's Work?
Look for a cleaning service that has a dedicated protocol for validating their team's work and making sure everything is cleaned and disinfected to a specific standard. Ideally, the company will also have processes in place for validating the effectiveness of their cleaning products, too.
These days, you can't be too careful when it comes to keeping your office clean and sanitized. Look for a cleaning company that has the same standards as you.
How Do You Take Care of Your Employees?
As a business owner, you know how important it is to take care of your employees if you want them to provide a high level of work and be loyal to your company. Look for a cleaning service that has the same motto. Ask about the steps the company takes to care for its employees to ensure they stay motivated and continue performing to the best of their abilities.
What Do Past Customers Have to Say About Your Work?
Any good cleaning service will be happy to share positive reviews and testimonials from past customers. If a business is hesitant about sharing reviews or providing you with references, that's a red flag.
What Other Services Do You Offer?
Finally, don't forget to ask about the additional services the company offers. Many commercial cleaning services can also take on additional cleaning projects, such as post-construction cleaning or viral remediation.
Look for a business that can do it all. That way, you don't have to worry about searching for different companies to handle each of your business's cleaning tasks every time the need arises.
Time for a Clean Office
There are lots of reasons to invest in commercial cleaning services for your business. If you're ready to level up the cleanliness of your office and have more time to focus on other important matters, keep the tips outlined above in mind.
Looking for professional cleaning services in the North Augusta area? We're here to help at BriTen Janitorial. Contact us today to learn more about what we can do for you or to get a free estimate.