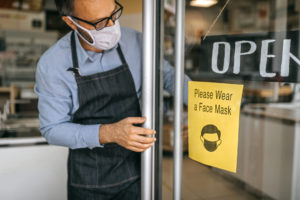 Here we are in September, six months after the novel coronavirus sent the world into an unknown twist and small businesses and business owners are still maneuvering and adjusting to these unprecedented times in 2020. This global crisis is impacting the lives of everyone in the world, especially small business owners and entrepreneurs.
Of course, everyone is in fear, or some form of it. It's unknown what's going to happen or where we will be in three months with things changing every day. However, what emerges on the other side of a pandemic like the Covid-19 crisis is stronger and more fruitful small businesses. 
When things like the Covid-19 virus happen, small business employees and teams' band together and contribute to creative ideas no matter if they are in the office or in a remote location. There's more urgency to get things done to prove that a small business can hang around too, and that its going to take more than the Covid-19 virus to take them down.
But to emerge as a stronger small business, you have to work hard and have a team of dedicated individuals who are also committed to hard work in difficult times. So how should business owners and small businesses adapt to working in these unknown times while looking for the light at the end of the tunnel?
BriTen Janitorial in Augusta not only provides professional cleaning services and infection prevention against Covid-19, but we also have 5 tips for small business owners and small businesses amid the Covid-19 pandemic.
The Covid-19 pandemic will pass
As a small business team and as a business owner, you should understand that this too shall pass. Leading a small business as an entrepreneur, it is important to stick to the core values and principles of your company and ensure that your team is committed to those as well. Yes, this Covid-19 pandemic will pass… but you have to get through it first.
Your reputation is built now, not when it's easy
The Covid-19 virus is one of the top things on our mind right now. How can it not be? The coronavirus has affected businesses, both big and small, communities and the day-to-day lives of individuals across the world, and as a small business owner, what's most important is safety and wellbeing of your employees and staff. 
The reputation of your small business will be formed depending on how you, your company and your employees react and overcome the obstacles of the Covid-19 virus. Don't be one of the small businesses that just scrapes by, but instead find different creative avenues and as a small business collective, strive to go above and beyond. People will take notice, and clients and prospective customers will remember the resilience and dedication that your small business exhibited even in the toughest times. The ideas and creativity that stem from uncertain times will propel you to the top, not leave you just running in the middle of the pack until Covid-19 passes by.
As a small business owner, be hopeful
As a small business owner and the evident leader of the small business, it is important to exhibit hope and remain steady towards your staff and employees. When things are unknown and times are uncertain, panic and hysteria are the first emotions that we turn to. However, as a small business owner, instilling hope and reassurance in your small business work environment will ease your employees and allow your company to focus on emerging from the Covid-19 pandemic stronger.
Increase communication & support across the small business work environment
Whether you are working from home or you're back in the office, communication and support during the Covid-19 pandemic is essential to a thriving and productive business. As a small business owner, it is important that your employees and staff understand the significance of communication and support, especially as we're actively battling coronavirus. 
Communication is vital to building a positive reputation during the coronavirus pandemic for your small business. Whatever form of communication works best for you and your team, use it! Whether its phone call, email or text, find the most effective way to maintain and increase workflow.
When effectively communicating as a small business collective, the team members of your small business will feel supported and less overwhelmed with knowing support behind them. The best way to ensure a happy and productive small business environment is through communication and support. With these unprecedented times, daily tasks and work have altered. Avoid employees and team members being overworked and overwhelmed with an effective communicating system and eager employees and staff always ready to offer a helping hand to keep your small business at the top!
We're here & we're not going anywhere
One of the most important things a small business and a small business owner can do during these times is exhibit an attitude to the public and your clientele that, "Here we are and we're not going anywhere!"
Has anyone else had to Google, call or wonder if a certain business is open because of Covid-19? As a small business owner, you can skip this step and make sure that your prospective customers in the area know you're open for business. You can get out ahead of the competition and show that, "Yes we are open, and we are not scared of the coronavirus!"
However, it is important to still take necessary precautions and safety measures to protect your small business and employees, but showing a strong resilience towards the fight against Covid-19 will show your employees, staff and clients that your business as a whole is stronger and more determined than the current obstacles standing in our way.
Protect your small business & keep thriving
BriTen Janitorial in Augusta is the premiere choice for professional cleaning and infection prevention services in the CSRA. At BriTen Janitorial, we pride ourselves on being your worry and headache-free contractor committed to ensuring the cleanest working environments. If you are a small business owner, we hope that the 5 tips for small businesses and small business owners amid the Covid-19 pandemic helps guide you in the right direction for ensuring your small business emerges from these unprecedented times stronger than ever.
If you are a small business owner searching for professional cleaning services, or a company that specializes in the infection prevention of common diseases including Covid-19, contact the cleaning professionals at BriTen Janitorial in Augusta.